MEET OUR TEAM
As people, populations and policies change, our agency recognizes the need for internal change to best serve our communities and beyond. The development of the 2021 – 2023 strategic plan plays a major role in our effort to move with intention in working toward and meeting NAESM's organizational goals and most importantly, serving our clients and community.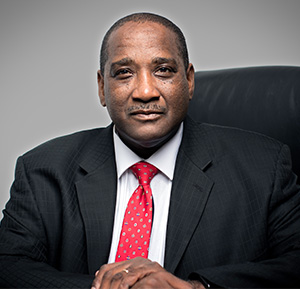 Alvan Quamina
Executive Director
Dr. Alvan Quamina Executive Director.  Prior to working for NAESM, INC. Alvan Quamina was a Section Chief at the City of Berkeley Public Health Division. He was also Executive Director of AIDS Project East Bay and years earlier, of AMASSI, Inc.  He has been involved in AIDS advocacy and AIDS work for over two decades.
Dr. Quamina holds a B.A. in Economics from Yale University, a J.D. from University of California, Berkeley, a Ph.D. in nonprofit management from Capella University, and a Master of Public Health degree from San José State University.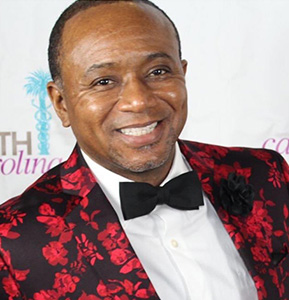 Brodderick D. Roary
Deputy Executive Director

Brodderick D. Roary attended Coker University for his undergraduate studies and Francis Marion University for his post graduate work. He has been working in the HIV Public Health sector for more than a decade. The majority of Brodderick's work has been with community-based organizations as a case manager, minority health educator, Ryan White Program Manager, HIV Prevention Program Manager and Executive Director. Before coming to NAESM Brodderick worked for 2 years at a Federally Qualified Health Center in rural South Carolina as the Ryan White Director managing the infectious disease clinic, the Hepatitis C and PrEP programs as well as all granted funded services and programs. He is a former board member of North Carolina AIDS Action Network who works to improve the lives of people living with HIV & AIDS and affected communities through outreach and public education, policy advocacy and community-building to increase visibility and mutual support of people living with HIV in North Carolina. Brodderick is a trainer for the In It Together- National Health Literacy Project for Black MSM.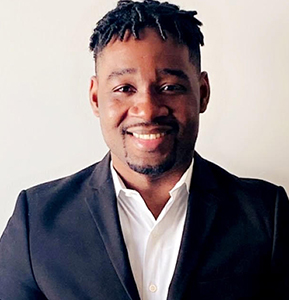 Alex Yannick Zohore, MS
Finance Manager
Alex Zohore joined NAESM, Inc. in January 2017 and currently serves as the organization's Finance Manager. Alex is responsible for managing all the financial matters of the organization, preparing accurate and creative financial reports and annual budget of the end of each year. Alex also serves as a team support in the organization.
Prior to joining NAESM, Inc., Alex served as Consultant and Property Manager for Anderson Ludd where he managed financial transactions, prepared and performed tax return, managed asset and liability of the organization Alex Zohore earned his Master degree in Finance from the Institute of Professional Training and Technology. He received his Bachelor of Arts degree in Accounting from the University of Finance and Management of Abidjan.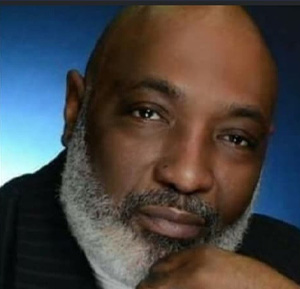 K'jerrel A. Smith
Quality Management Manager
Dr. Smith joined the NAESM, Inc. management team in June 2022 coming with 30 years of exceptional prowess in Education, Quality Management, Quality Assurance, Ethical Practices and Compliance expertise. Currently K'jerrel serves as the organization's Quality Management Manager. Prior to joining NAESM, Inc., he served as a Quality Check and Compliance Director, managing appointed federally regulated teams to ensure ethical practices within hospitals and clinics continuance of operation and the enforcement of ethical practices of physicians and nursing professionals' utilization of government approved qualitative EMR/EHR systems and a secondary educator and special education department head in the Orleans Parish School system serving at the Lawless Sr. High School. K'jerrel serves as a Senior Executive board member for the Integrity Healthcare Inc. and the Untapped Potential International Inc., organization which is servicing the healthcare initiatives within the LGBTQ+ community to improve the lives of people living with HIV/AIDS and affected communities through public education, outreach, policy advocacy, family counseling and empowering community building to increase the visibility and support of individuals living with HIV in the city of New Orleans and the surrounding cities and parishes of Louisiana.
Dr. Smith holds a BA degree in Psychology from Loyola University (New Orleans, LA), a MPA degree in Public Administration with a specialization in healthcare management from Loyola University (New Orleans, LA), and a PhD in the studies of Philosophy of Clinical Psychology from the University of New Orleans, (New Orleans, LA).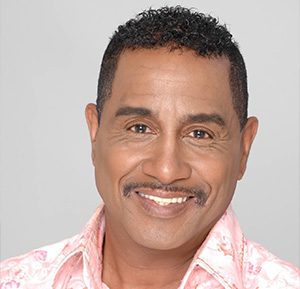 Nathan Townsend
HIV Prevention Programs Manager
Nathan joined the NAESM Team in June of 2022. He is a native of Philadelphia, Pa and relocated to Atlanta in December of 2017. Before joining NAESM Nathan held several positions at Family Service Association of Bucks County – HIV Prevention Educator, Housing Coordinator, Bucks Villa Resident Manager and Care Outreach Specialist over a span of 12 years.
Since moving to Atlanta Nathan has become a voting member of The Ryan White Planning Council, Vice Chair of The Consumer Council and an Executive Member of The Mayors HOPWA Advisory Committee. Additionally Nathan serves on the Board of Directors for THRIVE SS where he co-authored the Silver Lining Curriculum.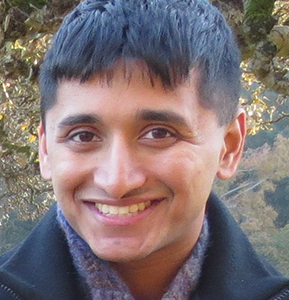 Abilash Pulicken
Abilash Pulicken rejoined the NAESM family in September 2019, and has since used his ten years of mental health experience to serve the organization's clients in a variety of mental health contexts. As specialist in treating mood disorders, relationship issues, and trauma, Abilash worked in a number of settings before becoming a part of the NAESM team, including private practice, reality television, Native American reservations, and schools. Compassion is key to Abilash's approach in terms of providing quality care to the agency's clients, and his passion for serving marginalized and underserved populations stems, in part, from his own experiences as both an immigrant and as a person of color in the United States. Abilash's contributions to the agency have been previously honored when he received its prestigious 'Madam Edna Brown Employee of the Year' award in January 2018.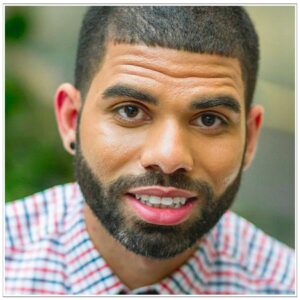 Dr. Nathaniel Currie, DSW, MSW, LCSW
Dr. Nathaniel Currie, DSW, MSW, LCSW, is a clinical social worker and educator with over fifteen years of social work experience in behavioral health, HIV, LGBTQ issues, and social justice/liberation work. His social work practice and leadership experience includes Johns Hopkins Medicine in Baltimore, Maryland, SMYAL in Washington, D.C., and multiple FQHC and community based agencies in Baltimore, Boston, District of Columbia, and Los Angeles. He is an Assistant Professor of Social Work and Social Welfare Policy at Clark Atlanta University, and Adjunct Professor in the Graduate School of Social Work at Winthrop University. He tours, lectures, trains, and writes regularly on the intersection of Critical Race Theory and social work practice, diversity, and on trauma related topics. He received his doctorate in social work from the University of Pennsylvania, Philadelphia, and his Master of Social Work degree from Simmons University, Boston. Dr. Currie is a licensed psychotherapist and maintains a small private practice in Atlanta. Dr. Currie and his Terrier, Jackson, split their time between Atlanta and Los Angeles.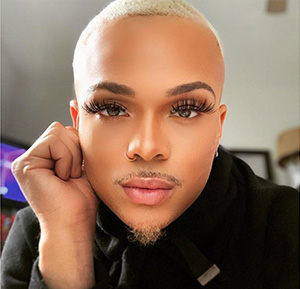 Travis Walker (Travii) (Pronouns: she/her/they/them)
Community Health Outreach Worker
Travis Walker was born and raised in Chicago, IL. They were accepted into Columbia College in 2012 for Dance. Later, Travii attended Moraine Valley Community College for Theatre/Dance. Later, Travii decided she wanted to make a difference within the community. Travii applied for an internship at the University of Chicago-Medicine drop-in center called "The Village." She received the internship and later went on to land a full-time position as a community health worker, where she gained knowledge and training with blood work, HIV and STI testing, prevention, and community outreach and engagement.
Through their engagement work, Travii developed a love for the ballroom culture, as his job involved frequent interaction with that community. Travis moved to Atlanta, GA in 2018, and landed a job at NAESM, Inc. as a community health outreach worker. Travii has appeared on talk shows, dance shows such as The KiKi Show Season 1 and 2, Legendary HBO Max; and appeared in music videos as a back dancer for various artist and she makes sure to advocate for the LGBT community; educating their peers on the seriousness of mental and sexual health and fulfilling the needs of clients.
Encouraging Words: regardless of what it may look like, keep pressing life only gets better.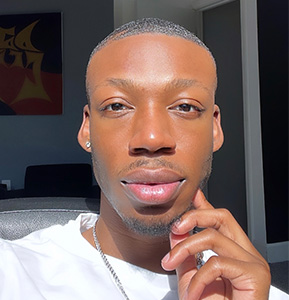 Ken Bellington 
Community Health Outreach Worker
Ken was born and raised in Brooklyn, NY. He moved to Pennsylvania and attended East Stroudsburg University for psychology. Ken later moved back to NYC and started his career path in community work as a Dance specialist and a group leader/counselor for Scan-Harbor Inc. then becoming the coordinator for the W.I.S.H. (We.I.She.He) program at Scan-Harbor Inc. Most of his work have been about education, health, wellness, and youth development. Michael's love for performing arts led him to ballroom where
Ken was born. He started dancing and modeling professionally landing castings for major fashion shows like Brooklyn Fashion Week, New York Men's Fashion Week, and Plitsz Fashion Week as well as landing castings on hit competition shows "KIKI Show" season 2 and "LEGENDARY" season 3 on HBOMAX. 2022 he moved to Atlanta, GA for a fresh start and to continue his career in performing arts and modeling. His passion for helping his community lead him to landing a job at NAESM, Inc as a Community health outreach worker. The love for people and his community is infinite and he believes his work is what he was destined to do.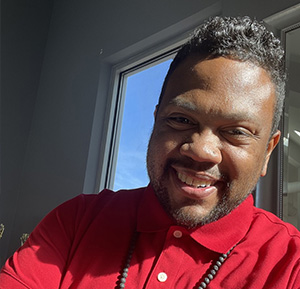 James Woods III
James Woods III joined NAESM in 2022. Born and raised in Laurel, Maryland he moved to Atlanta in 2020 to further his career in public health and healthcare advocacy. He is a vegan plant dad who loves 90's R&B music. James' goal in life is to earn his MPH, PsyD and create a philanthropic safe space in a public and mental health capacity. Prior to joining NAESM, James has 10+ years of experience in clinical pharmacy where his duties encompassed things like pharmacy IT, HIV treatment and prevention, opioid abuse management, drug therapy management, client engagement, and infectious disease treatment and outreach.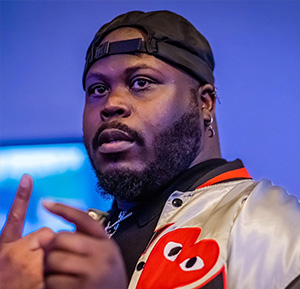 Derrick Ford
EHE Navigator
Derrick Ford or Tonka Garcon is the plus-size runway slayer that has been making statements in both mainstream and the Kiki ballroom scenes for years. Derrick/Tonka made his television debut on Amazon Prime's The Kiki Show as a judge. He's also a spokesperson for PrEP and was selected for the video campaign via HIV.org. Derrick/Tonka has graced the screens as the big boy supreme on Season 2 of HBO Max's hit series Legendary – where Tonka and the house of Comme Des Garcon rose to the Top 3 during the season finale. Tonka is continuing to push boundaries in ballroom, fashion, and entertainment while using his B.A. in communications and certified Life coaching to advocate for youth, body positivity, and LGBTQ+ rights. Derrick/Tonka is an ambassador for Big Boy Pride, Poseidon Underwear, and Supreme Smile cosmetic dentistry. Derrick/Tonka works as the EHE Navigator for NAESM, Inc. Where he focuses on re-engaging clients in care and services.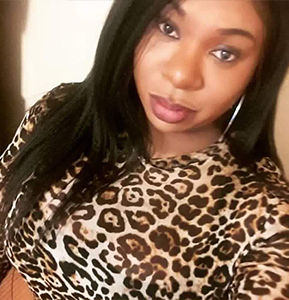 Nevaeh Anderson
Nevaeh Anderson (She/Her) is a Denver native who holds a bachelor's degree in Theatre with a minor in Women's Studies Before she started her journey at NAESM, she has been involved with HIV prevention and Transgender advocacy for a decade. She was the youngest program manager for a known community-based organization that primarily served African American individuals in the Denver Metropolitan area, where she advocated for Transgender individuals and ran a weekly support group. She is also a contractual trainer for TWIST (Transgender Women Involved in Strategies for Transformation) a health behavioral intervention by way of the CDC, which she also assisted with creating the content of the curriculum as well. After brief employment working with alternative medicine, she came back into HIV prevention by working at an agency where it was predominately ran by women, with services primarily for women. During this time, Nevaeh has managed to do in house presentations as well as workshops for various agencies and health conferences in the city of Denver.
Nevaeh came to Atlanta in the hopes of continued professional development, as well as being a voice and advocating for marginalized people, as well as advocate for Black women and femmes, bridging the gap to create stronger unity within our community.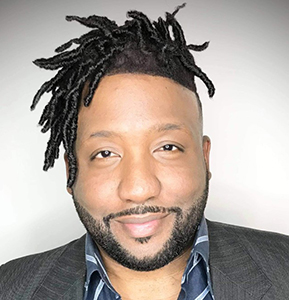 Nechemyah D. Sullivan, M.S., LPC, NCC, ECMHC
Nechemyah D. Sullivan, M.S., LPC, NCC, ECMHC, is a native of Baltimore, Maryland who resides in Atlanta, GA. He is a licensed clinical psychotherapist in the State of Georgia, certified in childhood mental health, pastoral counseling, and is nationally certified counselor in the United States with over 14 years of experience in the mental health field. Nechemyah has expertise knowledge and experience in child, adolescent, and family mental health, substance abuse treatment, couples and group therapies. He has experience in providing mental health consultation services to community-based organizations serving LGBT populations with HIV, substance use, and mental health needs in Atlanta. Nechemyah has served as an internship/site clinical supervisor for counseling students at Loyola University of Maryland, Argosy University (Atlanta Campus), Mercer University (Atlanta), and social work students at Clark-Atlanta University School of Social Work, University of Southern California School of Social Work.
Nechemyah has worked as a therapist within a group practice and in a private practice. He has served in many capacities in the mental health field as Therapist, Consultant, Manager, Coordinator, and Director in Baltimore, Maryland. His tenure in Atlanta has allowed him to be Chief Operations Officer of a for profit mental health outpatient agency in 13 counties in Georgia and later a Chief Executive Officer of a non-profit outpatient and in-home mental health company in 15 counties in Georgia. Mental Health is a second major career move and passion for Nechemyah as he is a former American sign language interpreter for religious organizations and city municipalities and a former elementary and middle School teacher with 8 years of service.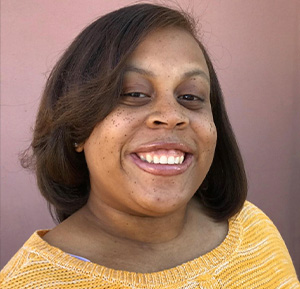 Victoria Hawley
Community Health Outreach Worker
Victoria Hawley joined NAESM, INC in 2021 and currently serves as a Community Health Outreach Worker in the Prevention Department for the organization. Before working at NAESM, INC, she worked at Georgia State University for 6 years as a student assistant, while achieving both her Associates and Bachelor's degree within the realm of health sciences. Also, Victoria holds a strong passion for being involved in the community as a health educator to help advocate health and wellness to her peers of the Atlanta community.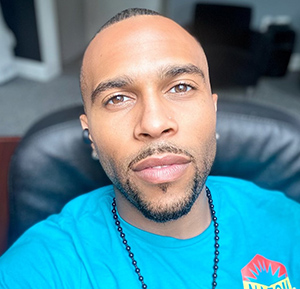 Craig Williams
Community Health Outreach Worker
Craig Jamaal Williams was born in Conway, SC on an Airforce Base and raised in North Augusta SC. Craig started taking dance classes during middle and high school. He studied Jazz, Hip-Hop, African, Ballroom (Latin). He graduated high school in 2002. Craig traveled to NYC to compete and won at the Showtime at The Apollo Theater in 2003 and in 2006. Afterward, he moved to Atlanta Ga in 2006 to further pursue his dance career. Landing dance roles/gigs on different television stations such as BET, LOGO, VICELAND, Amazon Prime, The CW and WORLD OF WONDER. Traveling all around the states in the year of 2010 , he embarked on a new journey in the underground Ballroom Vogue scene, that lead him into holding a Legendary status. In the community, Craig teaches the youth the art of dance, vogue and being a mentor. He has opened for the designer Tommy Hilfiger for his Award Ceremony during NYC Fashion Week in 2021.
Looking for different ways to do more within the LGBTQ+ community, he gained understanding of the lifestyle from experience as a black queer male in society by doing outreach and providing resources such as assist with providing linkage to care, support, and linkage for a healthier living; mentally, taking control of one's sexual health, and having compassion for the community. The goal is to change the old narratives and negative stigmas of getting tested and knowing your status, to healthier living, and taking control over your own life.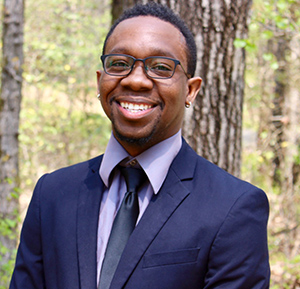 Larry Golden
Community Health Navigator
Larry Golden is a Tampa, Florida native who brings to NAESM a wealth of knowledge relating to case management from a social justice perspective. He holds a Bachelor of Science in Psychology and Human Services from Clayton State University. The former president of his alma mater's Gay Straight Alliance and secretary for a diversity educational group facilitating various diversity related workshops, Larry Golden is no stranger to strengthening communities through reflective dialogue. Larry Golden's commitment to service related to Queer populations stems from his own experiences of being brought up by the community and wants to give back. Prior to NAESM, Larry Golden worked for the DeKalb County Division of Family and Children Services, provided specific community resources to families to ensure the highest caliber safety, permanency, and well-being. Larry Golden currently serves as a Community Health Navigator for NAESM's clinical case management program known as "Safe Harbor". His responsibilities include connecting Black and Latino men to resources related to biomedical interventions, free mental health counseling, and other forms of supportive assistance.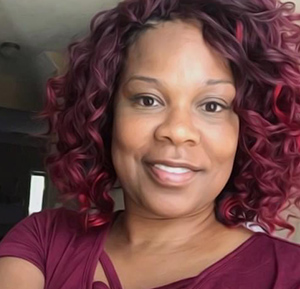 Krischele Brown
Community Health Outreach Worker
As a frontline public Health worker, she is a trusted member and has an unusually close understanding of the community served. Her public Service Career has spanned nearly 20 years in which she has remained committed to providing leadership, program support, and Valuable Resources to help improve the quality of life for the clients in the community of which she is a part.
As A Community Advocate for Change, Krischele sits as a Board Member of A non-profit, "Community Voices for Health," in Partnership with Ga Watch and serves as a Founding Steering Committee Member of The Georgia CHW Network, where she helped develop a CHW training program for the entire Southeastern Region of The United States.
During what has been an unprecedented year, As A Community Health Worker, she has remained committed to seeing that our clients get the care they both need and deserve.
She has said, "I'm passionate about this work; you can say it's my calling…and it is"