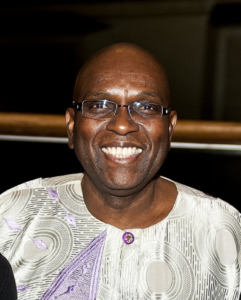 Ron Simmons, Ph.D., is the President/CEO of Us Helping Us, People Into Living, Inc. (UHU), a nonprofit AIDS organization specializing in HIV prevention programs and services for black gay/bisexual men. Founded as a support group for HIV-positive black gay men, UHU has become one of the largest black AIDS organizations in the country serving men and women in Washington DC metropolitan area. Dr. Simmons is a member of the HIV Prevention Community Planning Group and the Board of Medicine.
He has a B.A. in Afro-American Studies, a M.A. in African History, and a M.S. in Educational Communications from the State University of New York at Albany. He received his Ph.D. in Mass Communications from Howard University and served on the faculty of the Howard University School of Communications for 12 years.
Dr. Simmons' published works include: "Some Thoughts on the Challenges Facing Black Gay Intellectuals" in Brother To Brother: New Writings By Black Gay Men, "Sexuality, Television and Death: A Black Gay Dialogue On Malcolm X" in Malcolm X: In Our Own Image; "Baraka's Dilemma: To Be Or Not To Be" in Black Men on Race, Gender and Sexuality; "The Voice" in For Colored Boys Who Have Considered Suicide When the Rainbow is Still Not Enough; and "Joe, Essex, Marlon, and Me" in Black Gay Genius: Answering Joseph Beam's Call;. He was a field producer, photographer and cast member of the award winning film, Tongues Untied.